Unattended Death Cleanup, Hoarder Clean Up, Communicable Disease Disinfection, Blood and Crime Scene Clean Up Serving San Jose, Oakland, Sacramento, San Francisco, Stockton, Fresno, CA, and the Surrounding Areas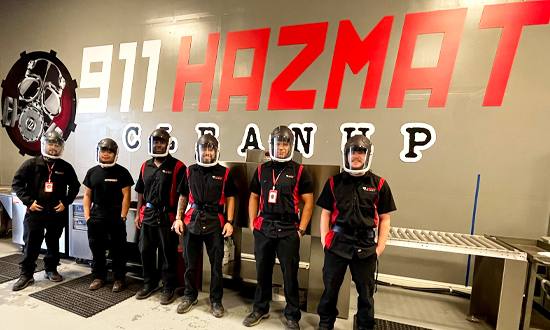 Welcome to
911 Hazmat Cleanup
At 911 Hazmat Cleanup, our professionals understand the emotional distress and sensitive nature of each of our client's needs while following the strict safety and legal requirem ents set forth by OSHA, the EPA and the Department of Transportation.
Our professional team members are experienced in all forms of biohazard cleaning services and are well versed in the necessary protocols for rapid cleanup of potentially dangerous and toxic situations. We answer any and all questions you may have and guide you through the process.
WHY CHOOSE US?
Get to know Our Process
6-STEP BIO-REMEDIATION FORENSIC CLEANING PROCESS
No other bio-remediation company takes the time to perform a 6-step bio-remediation forensic cleaning process like we do! We closely follow our proprietary 6-step bio-remediation forensic cleaning process to ensure that every job is completed and meets all safety standards.
Our Cleaning Process
At 911 Hazmat Cleanup, we treat each service with the utmost care, sensitivity and detail.
After completion of work, we provide you with a concise report to submit to your insurance company. We provide all of our customers with a full range of biohazard remediation including unattended death, suicide cleanup, homicide, hoarder cleanup, mold remediation, communicable disease disinfection and pet or animal cleanup.
911 Hazmat Cleanup is available 24 hours, 7 days a week so you never have to feel alone when disaster strikes.
800-291-0805
Testimonials
Highly Recommend

Did use the service cleaning and really they are professional, organized and they completed their work on their own without instructions from me. I recommend them very highly.

Fast, Efficient and Honest Work

We recently had the pleasure of working with Dewayne and Kim, under some very stressful circumstances. From the minute I spoke to Dewayne I was convinced we had to go through their company. I called around and emailed a few places but they are the only ones that got back to me in a timely manner, with so much information. The level of knowledge is amazing but what made me so sure about them was based on how we were treated. We had absolutely no idea how we were going to go about the whole process and were expecting to ...

Friendly and Professional

We had them come to help us clear out years of "storage" and rodent infestation. They were GREAT! The crew was both friendly and professional. Kim and Dwayne were wonderful to work with. Their estimate of the time was accurate and they provided all the tools necessary to get the job done. I highly recommend them.

Above and Beyond

Dwayne from 911 Hazmat went above and beyond what he was called to do. I needed a Hazmat company and Dwayne was the first and only call I needed to make. I had no previous experience dealing with hazmat companies and he made my experience so easy given the situation. He came to the property within a few hours to give me an estimate and he made me feel so comfortable that I needed look no further. He began work as soon as he could and went above and beyond to get our property back in good condition. He did ...

Great Company!

Great company! Kind, courteous, and professional. Excellent service to get the job done!

Fantastic Job

My family and myself recently had the great pleasure of meeting and working with Kim, Dewayne and their remarkable team, who represent 911 Hazmat Cleanup.

 We have never in our lives had to deal with a situation, like the one we found ourselves facing a few weeks ago, clearing out my late father's house, and we had no idea what to expect, but we were delighted by the results, and the team from 911 Hazmat Cleanup.

 Kim and Dewayne had the situation completely under control. They were the first on site and the last off site. They took complete control ...

Hoarder Cleanup

They were great. They were fantastic. Everyone of the crew was courteous. If they find something special, they would ask us if we want it or do they get rid of it. It was a very good experience. They were prompt, on time and a real joy to work with. They are highly recommended.

Unattended Death Cleanup

They did a fabulous job. They were very thorough, complete and kept me informed throughout the whole process. They cleaned everything and they did an outstanding job.

Hoarder & Mold Remediation

They wear masks and are all tested regularly for COVID, which I appreciated. I cannot begin to convey how difficult it was to get rid of the contaminated sentimental and irreplaceable childhood items at my parents' home, and they were so understanding and sensitive to the loss of the items. Their compassion made the process a lot easier for me. The home had been condemned, and due to how meticulous the report was, it was certified as habitable again. I felt like 911 Hazmat was on my side and there to help me, and I found that to be invaluable.

If I ever need to recommend a cleaning company to someone they'll know who to call.

Sometimes it's hard to explain how thankful you are but I'll try. 911 Hazmat helped my family in a time of need. They came and did the work free of charge because they noticed that we were struggling to provide funds since we had just lost a family member. They acted very professional and did everything quick and correctly. Their performance is honestly really impressive.

To the entire 911 Hazmat team, I am forever grateful.

911 Hazmat is a great company that provided invaluable services of biohazard cleaning, deep cleaning, packing and organizational services. From the beginning of the project to its conclusion, Kimberly, Sean, Dan and the team members were consummate professionals in all of the services that they provided. Communication and organization are key for this type of project, which were provided in abundance by everyone involved. Special thanks to their team leader Dan who always led by example and who exemplified these qualities in his daily approach to all aspects of the project.

I 100% recommend their services.

For my 2100 review I wanted to close out with a team that made a very difficult time in my life much easier. Cleaning out my father's rental after he passed away suddenly. The team was utterly amazing and their work was hands down exactly what I needed. They left the home spotless, and were incredibly flexible and kind.

What an amazing group of young workers.

We called 911 Hazmat to clean a neighbor's house. I had the privilege of meeting the owner of the company and she is very professional and friendly. The workers said that this is a great company to work for. The team leader Sara was amazing too. They truly care about the owner's feelings and are great at engaging in conversation. They take the time to get to know the owner of the house before they start to clean. They did such a professional job cleaning and sanitizing. I highly recommend this company if you have a lot of things to ...

Awesome people, thank you!

Love what they did for the older woman in Sacramento!

Excellent Results Ahead of Schedule

We asked 911 Hazmat Cleanup to completely empty and sanitize a house for us, including doing a full mold abatement. The entire process was very organized and professional, and all of the crew that worked on the job were fantastic. The owners Dewayne and Kim were great, holding our hands through the process and delivering excellent results ahead of schedule and on budget. They were very patient as well when they hit obstacles and addressed them with professionalism. We highly recommend 911 Hazmat Cleanup!

Amazed and Grateful

I cannot say enough good things about Kim, Dewayne and their entire crew they are simply AMAZING!! Not knowing what to do with a garage full of junk, storage, and a rodent infestation, I contacted 911 Hazmat. They came out for an estimate, and we booked an appointment soon after. Kim and Dewayne made this overwhelming job so easy. We marked everything we wanted to keep with blue tape before they came out. When the crew arrived they were extremely friendly, professional, and ready to get to work. I was so worried I might have missed something, but any unmarked ...

Gave us Peace of Mind

I must say that you guys are great. Thank you so much for the extra effort you put into the house. We were and still are facing a difficult time with caring for our father and his girlfriend of decades. Dewayne and Kimberly, you two have been great to deal with and have provided a positive experience in a trying time for us. Your patience with us in our decision making and your flexibility with us on start date gave us peace of mind and less to worry about moving forward. When I met you during the walk through, you ...

911 Hazmat provided truly outstanding service to our family at a most tragic and difficult time.

They were thoughtful and courteous throughout the process and provided whatever support we needed from beginning to end. They were totally professional and extremely knowledgeable in all matters related to the clean up process, including navigating the claim process with the insurance company. There is no other cleanup company that could possibly come close to providing such a level of exceptional service and care.

911 Hazmat Cleanup is an exceptional company with extraordinary competent and knowledgeable staff.

Their work is timely and of the highest quality. I would recommend them highly. Thank you!
Read More Reviews
PROFESSIONAL CERTIFICATIONS