Crime Scene Clean Up, Dead Body Clean Up, and Suicide Clean Up Serving San Jose, San Francisco, Ripon, Stockton, Oakland, and Sacramento, CA, and Surrounding Areas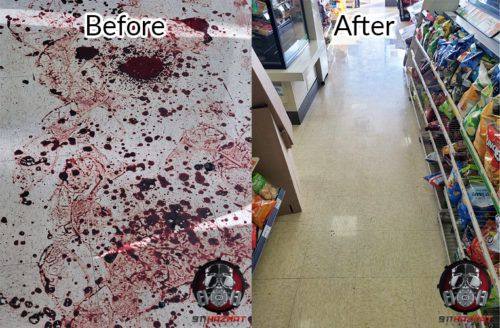 If you have experienced a homicide, suicide, or a serious injury resulting in a large blood spill, the team at 911 Hazmat Cleanup understands that it is an incredibly difficult experience for you.
After the first responders have departed and the sirens turn to silence, often homeowners like yourself is left to deal with the aftermath, and all the pain and difficulty that comes with the mess.  In addition to blood and body fluids, if your home was subject to an investigation, you could have property damage, fingerprint dust, and other chemicals to deal with.  That is why 911 Hazmat Cleanup prides ourselves on being the finest trauma scene cleaners available.  One call to our professional, friendly, and understanding team of biohazard clean up experts is all it takes.  We'll take over the trauma scene clean up so that you can be free to focus on getting your life back together.
We understand the sensitive nature of your needs
Here at 911 Hazmat Cleanup, we treat every service like homicide and suicide cleanup service and we perform with the utmost care, sensitivity, and attention to detail. Our vehicles and personnel always operate with discretion in mind, in order to provide you with the privacy you need and deserve. We provide a full range of biohazard clean up services, including unattended death, suicide, homicide, and other areas of trauma scene clean up. As a locally owned and operated company, we pride ourselves on serving the communities we also call home. Our professional team understands the sensitive nature of your needs, and the emotional distress that most people requiring our services have surely felt. We deliver top-tier bio remediation while following the strict guidelines set out by OSHA, the EPA, and the DOT.
If you find yourself in an unthinkable situation,
911 Hazmat Cleanup is here to help.
Don't hesitate to call!