Industrial Accident Cleanup in San Francisco, San Jose, Oakland, Sacramento, Fresno, Ripon, CA, and Surrounding Areas
Industrial Emergencies Mean Cleaning Emergencies
Whenever business owners need cost-efficient and fast industrial accident cleanup in San Francisco, San Jose, Oakland, Sacramento, Fresno, Ripon, CA, or the surrounding areas, they call our licensed crew at 911 Hazmat Cleanup. Biohazard cleanup is a job for experienced professionals, which personnel or DIY contractors with incomplete protective equipment must never attempt.
Workplace accidents can be unavoidable at high-risk locations like construction sites. According to research from the International Labour Organization, over 340 million occupation-related accidents happen annually. Our sanitation experts at 911 Hazmat Cleanup will eliminate all hazardous materials, bodily fluids, bloodborne pathogens, and destroyed equipment while ensuring minimal business interruption.
CALL US NOW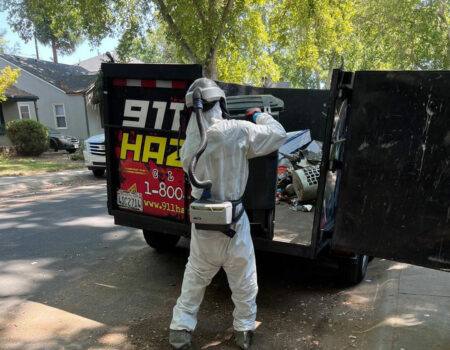 Biohazard Cleanup
Our technicians have decades of combined experience sanitizing a broad range of industrial and commercial settings.
Biohazard cleanup is essential for maintaining a safe and sanitary environment for your employees. Every year, our professional crew removes dangerous materials, such as biochemical waste and bodily fluids, from many industrial and commercial properties in in San Francisco, San Jose, Oakland, Sacramento, Fresno, Ripon, CA, and the surrounding areas.
Proper biohazard cleanup requires extensive training and it is vital to prevent the spread of disease and infection among workers and customers.
At 911 Hazmat Cleanup, we understand the high risks associated with biohazard cleanup, so we invest in technical training and state-of-the-art equipment. Our team of certified technicians can remove all traces of hazardous materials much faster and more thoroughly than untrained employees. We also use eco-friendly products and techniques to decontaminate and sanitize the area to prevent the recurrence of accidents.
We provide personalized service to every customer. Our team always works closely with clients to provide the most affordable and prompt industrial accident cleanup.
Industrial Accident Cleanup Services
Industrial accidents that do not receive professional cleanups are as dangerous as they are expensive. Not only can they cause serious harm to workers and the environment, but they can also cost you thousands of dollars in legal fees against future tenants.
Our industrial accident cleanup crew can work in factories, construction sites, warehouses, and other industrial settings in San Francisco, Fresno, Oakland, and other areas. We help employees return to work fast, so companies can turn a profit while improving their safety standards.
Contact 911 Hazmat Cleanup today for your industrial accident cleanup needs. Our technicians are available 24/7 to answer your concerns.