Communicable Disease Disinfection In Fresno, Oakland, San Francisco, Stockton, Sacramento, San Jose, CA, and Surrounding Areas
RESTORE THE HEALTH AND SAFETY OF YOUR BUSINESS OR HOME!
CALL NOW
COMMUNICABLE DISEASE DISINFECTION, DECONTAMINATION, & PREVENTATIVE CLEANING
TRUST THE EXPERTS AT 911 HAZMAT CLEANUP
911 Hazmat Cleanup specializes in Communicable diseases disinfection cleanup. We set ourselves apart by our 6-Step Bio- Remediation Forensic Cleaning Process and ATP Meter Testing. It's not worth the risk.
Please call 911 Hazmat Cleanup at 1-800-291-0805
CALL NOW
6 Step Bio-RemediationForensic Cleaning Process
Step #1 Treatment Process, Ultra Low Volume (UVL) WET FOGGER
Step #2 Cleaning Process, Wipe all touch surfaces with EPA Approved Virucide Sanitizing Wipes
Step #3 Disinfecting Process, Apply EPA Approved Hospital grade disinfectant on all touch surfaces
Step #4 Decontamination Process, Apply EPA Approved Anti-Septic FOAM-IT Therapy to all hard surfaces
Step #5 Sterilization Process, Commercial Steamers applied to all surface areas
Step #6 Encapsulation Process, applied to all surfaces (hard, soft) with Electrostatic Sprayers, kills most viruses 99.999% SARS associated Coronavirus
(Confirmed with manufacturer) in 5-10 minutes dwell time to include, but not limited to C-diff, MRSA, HIV, Influenza, coronavirus, Klebsiella Pneumonia, Non-Toxic, odorless
CALL NOW
What Is Communicable Disease Cleaning, Sanitizing, and Disinfecting?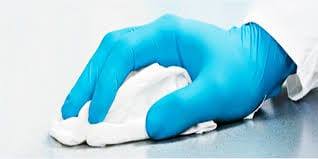 Cleaning of visibly dirty surfaces followed by disinfection is a best practice measure for the prevention of communicable diseases and other viral respiratory illnesses in office buildings, households, and large community settings.
Cleaning refers to the removal of germs, dirt, and impurities from surfaces. Cleaning does not kill germs, but removing them lowers their numbers and the risk of spreading infection.
Sanitize refers to making less offensive through the elimination of anything unwholesome, objectionable, or incriminating.
Disinfecting refers to using chemicals to kill germs on surfaces. This process does not necessarily clean dirty surfaces or remove germs, but killing germs on a surface after cleaning can further lower the risk of spreading infection.
Clean and disinfect high-touch surfaces daily in office buildings and common areas (e.g. tables, hard-backed chairs, doorknobs, light switches, remotes, handles, desks, toilets, sinks).
5 Step Cleaning, Disinfection, and Sterilization A ("Touchless") Cleaning Process.
Step #1Electrostatic Spray Disinfection
Step #2UVC Germicidal Disinfection
Step #3Bio Air Purifier/Scrubber (HEPA/UVC Filtration System)
Step #4Steam Disinfection and Sterilization
Step #5Dry Mist (Using U.S. Environmental Protection Agency (EPA)'s List N Disinfectants.)
CALL NOW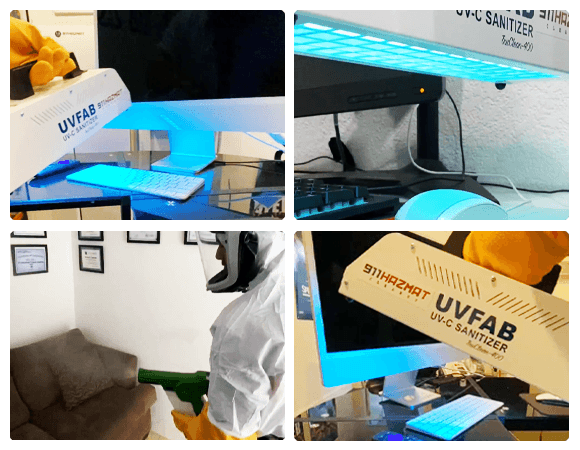 List of Communicable Diseases:
Coronavirus
Ebola
MRSA
C-Difficle
Influenza
HIV
H1N1
Staph Infection
Hantavirus
Hepatitis A
Hepatitis B
Hepatitis C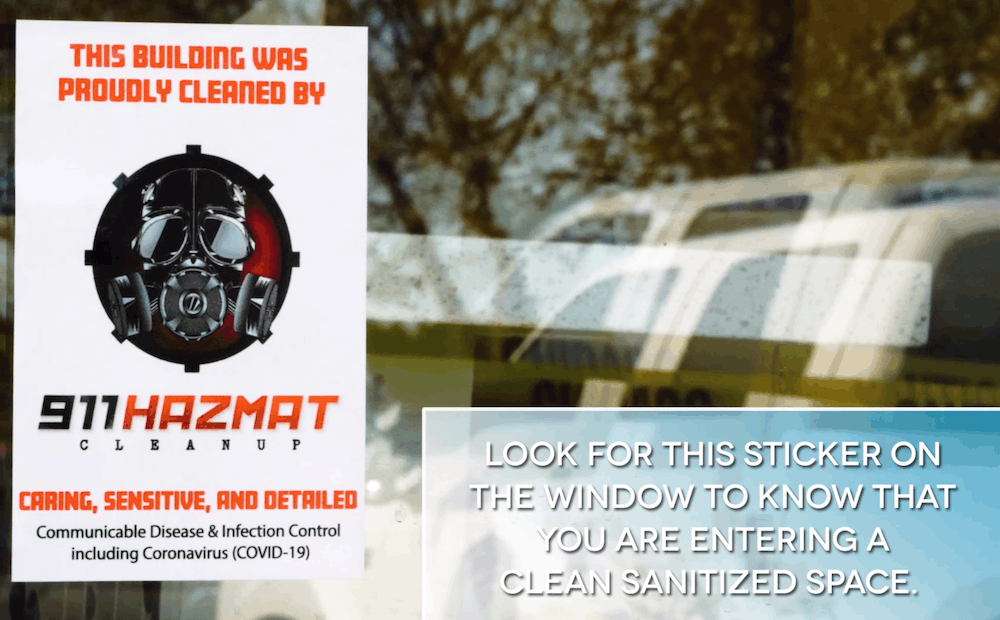 Additional Services:
ATP Testing: ATP test is a process of rapidly measuring actively growing microorganisms through detection of adenosine triphosphate, or ATP. Provides measurable data as to the cleanliness of a surface. The higher the reading the more contamination present. Results are displayed in Relative Light Units (RLU) More contamination = Higher RLU results. Optimizes and verifies that cleaning procedures are working.