Hoarder Cleaning and Hoarder Clean Up in Redwood City, CA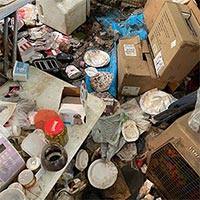 Some individuals in Redwood City, CA, experience behavioral conditions that lead to compulsive hoarding. These hoarders often keep items that other people consider worthless, like old newspapers, clothing, and trash. They frequently collect so much material that they can no longer easily clean their homes.
Our team at 911 Hazmat Cleanup, LLC provides hoarder clean-up services. We operate out of Ripon, CA, and serve clientele in the surrounding areas. Set up an appointment for cleaning today!.
Hoarder Clean Up in Redwood City, CA
Hoarding situations often develop from mental health issues. Sometimes, hoarders become unable to care for their properties because of mental or physical conditions. If you have a family member dealing with this situation, we step in to offer hoarder cleaning.
We understand the risks associated with clutter hoarding. The accumulation of trash and other objects makes it difficult to keep the dwelling clean. Over time, an individual in a severely cluttered home may get exposed to:
Hoarder Cleaning in Redwood City, California
We understand the best strategies to handle hoarder cleaning in Redwood City, CA. Our team follows a six-step process and uses our extensive experience to handle your clutter clean-up needs.
Our team has the personal protective gear (PPG) to safely remove hazardous materials, including human waste which often accumulate in hoarding situations.
Get Help Today in Redwood City, California
Hoarding tendencies impact around 5% of the population of the U.S. Our team understands the severity of this condition, and we treat our clients with respect. In addition to removing hoarded material, we decontaminate the area to remove odors. Allow us to return a loved one's property to pristine condition.
Located close to San Francisco and San Jose, Redwood City is home to several major companies, including Electronic Arts and Oracle. The city – which houses over 76,000 residents – also has one of the few deep-water ports on the San Francisco Bay.
Our team at 911 Hazmat Cleanup, LLC takes care of hoarder cleanup in Redwood City, CA. We provide all our clients with comprehensive cleaning services. Set up an appointment today by calling (800) 291-0805.