Hoarder Cleaning in Auburn, CA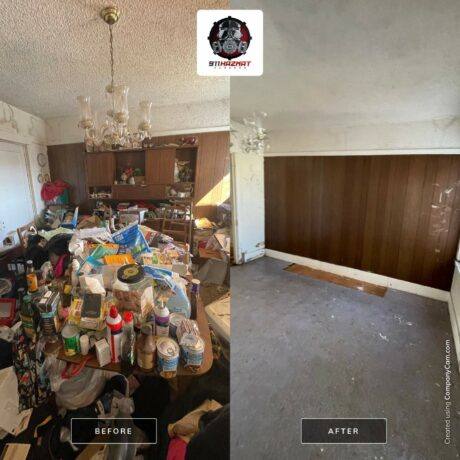 Compulsive hoarding is a severe mental health condition that drives people to keep all their belongings; even those others would consider unusable. While everyone has clutter or unnecessary items in their Auburn, CA homes, hoarding disorder extends beyond that and threatens the health, safety, and lifestyle of those afflicted.
Excessive collections of dirty items can lead to mold and fungus growth while attracting pests that leave behind hazardous waste. The combination of those hazards can lead to disease and even death, so it's crucial to hire a professional hoarder cleaning team if your loved ones are undergoing dangerous hoarding situations.
911 Hazmat Cleanup LLC has the best hoarding cleanup service in California. While we recommend hiring a mental health professional to guide your loved ones through their hoarding disorder, we can assist in the next best way; cleaning and sanitizing their living space to protect their health.
Contact 911 Hazmat Cleanup LLC today to learn more about our hoarder clean-up services.
Hoarder Clean Up for Auburn, CA Homes
911 Hazmat Cleanup LLC has been sanitizing hoarders' homes in Ripon, CA, and the surrounding cities for over two decades. Over those years, we've perfected discrete but thorough cleaning that removes every bit of unnecessary clutter.
People with hoarders in their families often want to clean their loved ones' space themselves. While we share your passion for hoarder cleaning, the work is too taxing and hazardous without years of experience and strong PPE. We have both at 911 Hazmat Cleanup LLC and will remove every trace of mold, fungi, and bacteria we find without harming ourselves.
Our team has undergone rigorous training from the EPA, DOT, and OSHA, so we have the professional knowledge needed to clean a house while staying mindful of your family member's property.
Contact Us
Hoarder Cleaning and Hoarding Removal in Auburn, California
History buffs know Auburn, CA, well for its role in the California gold rush, but its modern residents know it better as the ideal place to call home. Though Auburn has a small population of just under 14,000 people, the city has a thriving public transit system, a relatively mild summer climate, and several historical and artistic landmarks. Auburn also houses Placer High School, one of California's oldest schools.
The Auburn community loves their city and homes, and a hoarder cleaning service from 911 Hazmat Cleanup LLC is the best way to protect your loved one's slice of the town if they suffer from compulsive hoarding. Contact 911 Hazmat Cleanup LLC today to schedule an appointment for hoarding removal.