Hoarder Clean Up and Hoarder Cleaning in San Mateo, CA
People with hoarding disorder find it impossible to get rid of possessions. It can begin as a modest collecting hobby but soon turns uncontrollable and even deadly.
Items such as empty food containers, clothes, housewares, and even pets accumulate in the home, restricting movement and space. As a result, hoarding situations can quickly become unsanitary.
911 Hazmat Cleanup, LLC in San Mateo, CA provides hoarder cleanup services to people with this difficult-to-manage condition. Often people afflicted with hoarding disorder have other physical and mental health issues to boot, making it impossible for non-specialized cleaning companies to do the job.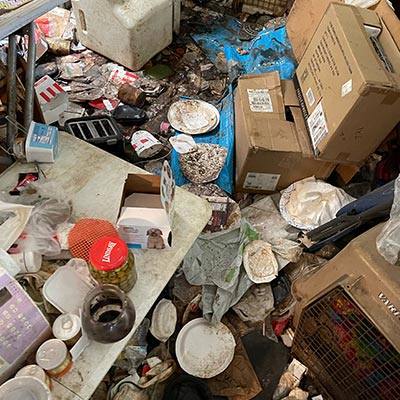 Contact our team for hoarder cleanup services in San Mateo by calling 800-291-0805 today. We will help restore your or your loved one's cluttered home for improved quality of life and better living conditions.
Hoarder Clean Up for San Mateo, CA
When you contact 911 Hazmat Cleaning, LLC for a job, our team of OSHA-trained cleaners will arrive with all the certifications, cleaning supplies, and equipment necessary to complete your hoarder cleanup.
We prioritize customer care above everything else and use tact and sensitivity when handling all items. This ensures that we do not discard salvageable valuable items or family heirlooms.
After removing waste items, our professional cleaning team will carry out whole-home deep cleaning, including:
Disinfection
Deodorization
Cleaning and organizing
Human waste cleaning
We will remove biohazard materials such as bacteria, viruses, mold, blood, and decomposing animals professionally and safely. Get help for a loved one or friend with a hoarding disorder from the best hoarding cleaning company in San Mateo — contact 911 Hazmat Cleaning, LLC today for a free consultation.
Hoarder Cleaning Company Serving San Mateo, California
At 911 Hazmat Cleanup, LLC, our team of professional cleaning technicians is licensed and insured to carry out hoarder cleaning in San Mateo, CA. Our team members are highly trained and comply with OSHA, EPA, and Department of Transportation regulations for all projects.
San Mateo, CA lies approximately 31 miles northwest of San Jose and 20 miles south of San Francisco. It has a population of 105,661 as of 2020.
San Mateo is home to technology and entertainment companies Sony Interactive Entertainment Division GoPro, Kronos Bio, and Roblox Corporation. It has a rich Native American history and is famous for its temperate climate. Located in the heart of the San Francisco Bay Area, it is a major regional transport hub between the major cities in the area.
Contact 911 Hazmat Cleanup for more information about our hoarder cleanup services in San Mateo, CA, and neighboring areas including Danville, San Bruno, Redwood City, and Menlo Park.