COVID Disinfection and COVID Cleanup in Turlock, CA
With the coronavirus pandemic upending life recently, businesses have widely turned to services for COVID disinfection in Turlock, CA, and elsewhere. Proper COVID disinfection has become a top priority for residential and commercial areas that want to remain clean and safe for occupants or visitors. At 911 Hazmat Cleanup, that means continuing to offer comprehensive coronavirus disinfection services in line with Centers for Disease Control and Prevention (CDC) guidelines and other industry standards.
How does our proprietary six-step forensic cleaning and disinfection process work? It includes the equipment and training to undertake bioremediation and ATP meter testing so that our customers can enjoy peace of mind about where they live or conduct business. Contact our COVID cleanup service for an expert team who can answer all your questions.
Coronavirus Disinfection in Turlock, CA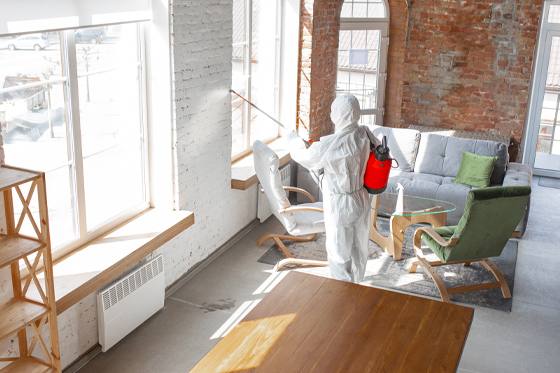 What can our customers expect from us when it comes to professional COVID-19 disinfection? Our thorough service includes certified professionals who clean and disinfect surfaces with more than just soap and water. Our cleaning service extends to hand sanitizer dispensers, hard surfaces, and soft surfaces, ensuring that every part of the home or Turlock business property is spotlessly clean and protected.
911 Hazmat Cleanup employs a 6-Step Bioremediation Cleaning and Disinfection Process for COVID disinfection:
Remove and treat germs on surfaces using UVL Wet Fogger
Thoroughly clean touch surfaces with EPA-accredited virucide wipes
Disinfect touch surfaces with hospital-grade EPA-approved products
Decontaminate hard surfaces with antiseptic EPA-approved FOAM-IT
Sterilize surfaces with commercial steamers
Encapsulate surfaces using electrostatic sprayers (it kills 99.999% of SARS-associated coronaviruses on all types of surfaces)
Our service is comprehensive, odorless, and non-toxic, effortlessly killing harmful viruses like MRSA, C-diff, HIV, Klebsiella Pneumonia, and Influenza.
Disinfection of Infectious Diseases in Turlock, California
Turlock is a city in Stanislaus County, California, with an estimated 73,000 (2021). After Modesto, this charming agricultural town is the second-most populous city in the county and is endearingly referred to as the Heart of the Valley. Since its founding in 1871, Turlock's development has moved well beyond its post office, grain warehouse, and depot origins into a modern city famous for beautiful weather and a charming small-town feel (perfect for growing families and retirees alike).
The team at 911 Hazmat Cleanup appreciates all that Turlock has to offer, and our contribution includes the COVID disinfection services to keep Turlock homes and businesses safe in the ongoing pandemic. Contact us today to learn more about reliable COVID disinfection in Turlock, CA.