COVID Disinfection and COVID Cleanup in Modesto, CA
COVID-19 disinfection is now a necessary part of everyday life. Professional COVID disinfection in Modesto, CA, is one of the most effective ways to protect families, employees, and clients in both residential and commercial properties. Our company, 911 Hazmat Cleanup, can provide the ultimate in COVID sanitizing at an affordable cost to homes and businesses in the Modesto, CA, area.
Masks, hand-washing with soap and water, and alcohol-based hand sanitizer may help protect you at a personal level. However, most of us are wary of public and business spaces where many people congregate or pass through—as well as having people in our homes if we are unsure about their virus status.
Perhaps you have a family member or employee who has or had the coronavirus. Now is the time to decontaminate. Professional coronavirus disinfection plays an essential role in curbing the spread of the virus.
At 911 Hazmat Cleanup, we take our role as front-line defense seriously. We exceed industry standards in providing the best possible cleanup, plus we use ATP meters to test surfaces. We then execute one of the most thorough COVID-19 disinfection protocols in the country.
COVID Cleanup and Disinfection in Modesto, CA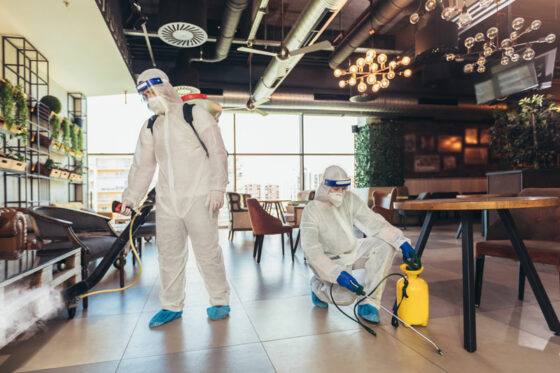 Our 911 Hazmat Cleanup team uses foggers and disinfection processes to make your space as virus-free as possible. Household remedies like bleaching solutions or soap and water are not adequate. Our airborne foggers are more effective and thorough.
Our exclusive COVID cleanup procedure includes:
Initial treatment with a ULV wet fogger
A wipe-down of all surfaces using virucide
Disinfection of all surfaces with a potent medical-grade disinfectant
Application of antiseptic foam
Steam-treatment sterilizing of hard and soft surfaces
Electrostatic sprayer treatment for cleaning and disinfecting surfaces
The coronavirus, or COVID-19, doesn't stand a chance after our treatments. When soap and water just aren't enough, count on our pros to keep your building safe from the virus.
COVID-19 Disinfection in Modesto, California
If you suspect that someone infected with COVID has been in your space, call our team at 911 Hazmat Cleanup right away for an urgent response. If you have a business, you may want to contract for routine proactive anti-COVID maintenance visits.
Modesto, CA, now a bustling metropolis of over 210,000 people, had under 1,000 residents 140 years ago. The economy is still largely agriculturally-based, but the city presents many other business opportunities. Modesto is home to the largest wine bottle manufacturer globally, Gallo Glass Company, and its partner, Gallo Winery. Visitors may also enjoy the valley's excellent museums: The McHenry, Great Valley, and Hillier Air Museums are excellent places to start.
For COVID disinfection in Modesto, contact California's expert providers, 911 Hazmat Cleanup, LLC.