Coronavirus Disinfection and COVID Cleanup in Ripon, CA
Our 911 Hazmat Cleanup team is here to assist you with coronavirus disinfection services in Ripon, CA, whether your property is residential or commercial. Our trained and experienced technicians use a rigorous six-step COVID-19 disinfection program in conjunction with ATP meter testing (which detects the presence of organic material on surfaces).
Coronavirus, or COVID-19, changed the way everyone lives when it hit the United States in the late winter of 2000. Most people now stock alcohol-based hand sanitizer and spare masks as a matter of course, and everyone learned to wash their hands well with soap and water.
Beyond keeping your personal space safe, though, is the concern about spaces open to many people who could potentially infect the air and surfaces with the COVID-19 virus. Our company, 911 Hazmat Cleanup, has created a new specialty area of COVID disinfection and COVID cleanup services, which are now a part of everyday life as people desire to protect their employees, customers, and families.
Coronavirus Disinfection in Ripon, CA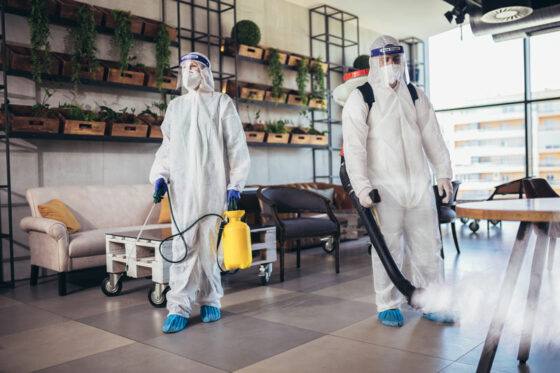 Our six-step COVID cleanup process entails using a fogger that can reach every nook and cranny in a room. Since every product we use is EPA-approved, coronavirus is unable to evade when we clean and disinfect surfaces:
Treatment starts with an ultra-low volume wet fogger.
The next step is to wipe down any surfaces using sanitizing wipes impregnated with a potent virucide (virus killer).
We then take the extra step of disinfecting these surfaces using a hospital-grade detergent.
The decontamination process entails applying antiseptic foam to any hard surface.
We then use commercial steamers to sterilize all the surfaces.
Finally, we use electrostatic sprayers to kill off any remaining COVID-19 particles.
COVID Cleaning and Disinfection to Protect from Infectious Diseases in Ripon, California
Companies and homeowners in Ripon, CA, that suspect infection in their building should contact our team at 911 Hazmat Cleanup. We also offer a routine maintenance plan to keep homes and businesses safe.
Using soap and water or bleach solutions for cleaning and disinfection is only effective up to a point since it's impossible to reach every possible space yourself with household cleaners. Our professional, comprehensive coronavirus disinfection from 911 Hazmat Cleanup will quickly and efficiently eliminate all traces of the virus.
With over 15,000 residents, Ripon has grown considerably since its founding in the 1800s. Known for almond production, Ripon is still a farming community. With access to wineries and fine dining establishments, it's a place to eat and drink well. To work off the extra calories, you can take a stroll around Mavis Stouffer Park or spend the weekend hiking in Caswell Memorial State Park.
Contact us today if you would like to hire our expert technicians for COVID disinfection and COVID cleanup.